What is it & what does it do?
Drakewell Realtime is a tool to capture EDR data from the rig and send it in near real-time to the cloud. Within a job in Drakewell, users can then see near real-time EDR data in an easy-to-use dashboard wherever they are and on any device.
Remote operations centers, coordinators at the office, survey and drilling consultants, and even your customer's Drilling Engineers will have the ability to see and share data with the soon-to-be-released Customer Portal.
Drakewell makes sure the EDR data can be correctly associated with all of your other job data including BHA runs, Assets downhole, On job Activities, and more.
How it works
With permission from the Operator, MWD engineers at the rig use a lightweight and simple application to gather EDR data from the rig. This application then sends the data up to scalable cloud infrastructure which stores all the records.
In Drakewell a new tab is available on each job called Realtime. Users with the right access can configure hundreds of different dashboard combinations to see data exactly how they want. This data is then updated on the dashboard in near real time directly from the rig.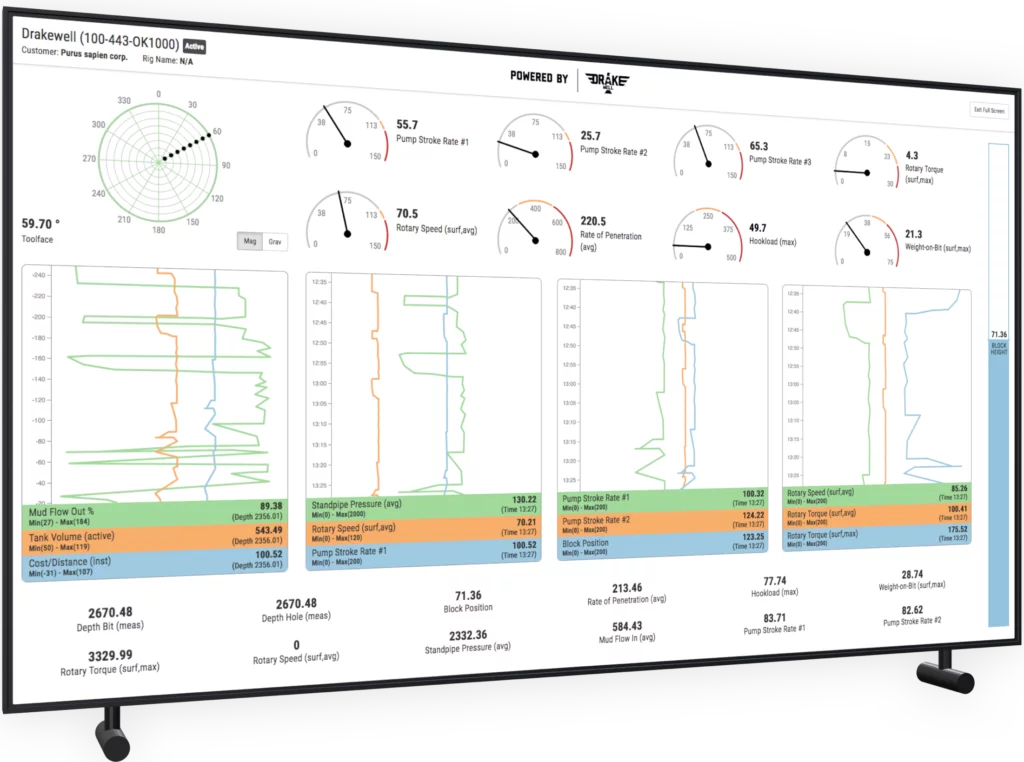 Why it's exciting
Why it's exciting today:
Drakewell can not only gather job data your field personnel enter, it can also gather EDR data that's perfectly matched to your hand-entered information.
You will increase the performance and level of safety on your jobs by seeing what your field personnel are doing and the direct effects on downhole parameters in near real-time and in detail.
You can have Operational data gathering and EDR data gathering in one platform.
You can enable Remote Operational Centers using Drakewell.
Here's why it will be exciting for you as you gather data:
With the soon to be released Drakewell Analytics you will be able to analyze Job and Asset performance using fine grained EDR data.
You will be able to analyze trends using operational and EDR data in one platform that's been built for big data.
As the Drakewell team rolls out advanced analytics using machine learning, you will be able to take advantage of predictive analytics using EDR data.
Why your customers will care
Here's why your customers will care today:
You will have to ability to run higher performing and safer jobs with more eyes on the remote operations of every Realtime enabled job.
With the pending launch of the Customer Portal, Drilling Engineers or other customer representatives will be able to see real-time EDR data matched to operational data anywhere they are using a mobile device, tablet, or computer.
Here's why they will care in the future:
With the pending launch of Drakewell Analytics, customers will have the security in knowing that you'll be able to provide them a detailed asset and job performance, including EDR data matched to BHA Run, Assets, Bits, etc.
As the Drakewell team rolls out advanced analytics with machine learning, you will be able to offer your customers higher levels of performance and safety through predictive analytics.
How do I turn Realtime on?
Turning on Drakewell Realtime is as easy as contacting your Drakewell representative. We will enable it in your Drakewell environment. From there you can enable Realtime by Operator in Drakewell, allowing you to control which jobs can use Realtime based on the operator permissions you've received.
Contact your Drakewell representative for pricing availability, and access to these exciting new features!